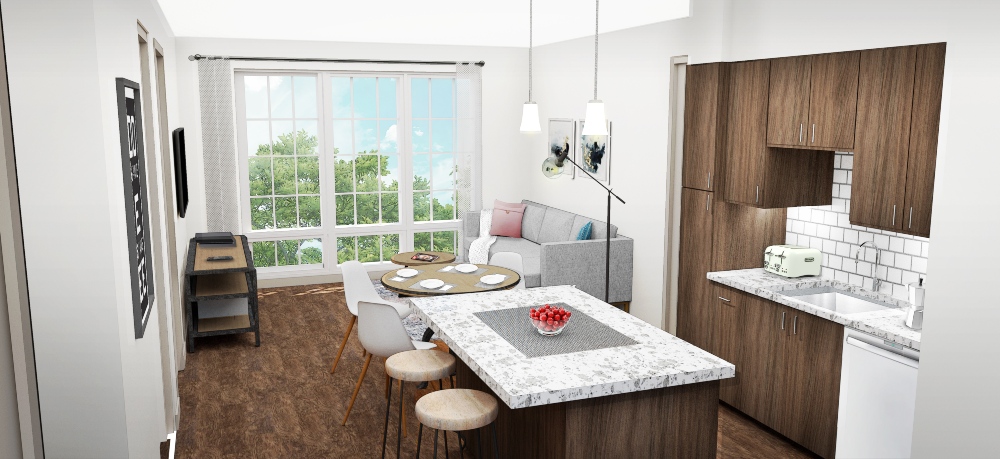 Welcome to ASHBRIDGE
Welcome to ASHBRIDGE, Exton's newest community of luxury apartment homes. Located right in the heart of Main Street Exton retailers, and along it's scenic Valley Creek, ASHBRIDGE is a brand new building of studio, 1 bedroom, 2 bedroom and 3 bedroom apartment homes. The perfect combination of quiet suburbia but with city shopping and restaurants, your new apartment home in Exton will give you the both of best worlds, with the backdrop of trees and the creek, but Main Street right outside your door.
Upon entering ASHBRIDGE, you can see that designers took time and effort to make a home as beautiful as it is convenient. A lobby of exposed brick and industrial accents is made to feel cozy with natural wood features and fine furnishings. All our common spaces have been made for your comfort and entertainment so you feel right at home, but style has gone into every inch to give you that luxury hotel vibe. You'll love coming home to ASHBRIDGE, and you'll love showing your new apartment home to friends and family. Floor to ceiling industrial windows let in plenty of light for an open air feeling, but also gives our building an old factory vibe as if it was always here in downtown Exton.
All our of studio, one bedroom, 2 bedroom and 3 bedroom apartment homes are finished with the same quality and style as our common areas. Dark wood cabinets are accentuated by vintage looking white subway tile to give your home a new meets old look, while quartz counters and marble backsplashes give the feeling of luxury while making cooking and clean-up a breeze. Every apartment unit comes with GE stainless steel appliances, including a full washer dryer, so you'll never lug clothes down to a basement again, and our kitchens are fully furnished with a dishwasher and gas stove. Large windows and walk out balconies bring the outdoors in, while seamless soundproofing and quality doors and windows keep the noise out. Nine foot ceilings make even our coziest studios feel spacious, and a NEST thermostat in each apartment ensures that your own nest will always be to your liking.
While you'll love being in your new apartment home and may never want to leave, we still provide plenty of amenities to further enhance community living at ASHBRIDGE. While many luxury apartment home communities come with a fitness center, our state-of-the-art fitness facility also comes with a boxing ring, a feature that will surely knock out your guests! Peloton bikes are another modern luxury of our fitness facility, while local running, hiking and bike trails ensure that you can bring your workout outdoors as well. While you're outside, you can also enjoy our outdoor pool, complete with patio lounging areas and outdoor grills for summer gatherings.
After exploring the trails, our local pet spa will ensure your dog will also live their best (and cleanest!) life. For you, there's a hair and nail salon within walking distance, so your pup won't be the only one looking pretty. Whole Foods, Barnes and Noble and other major retailers are all right across the street for groceries and conveniences. While fun hangs out like World of Beer and Stolen Sun Craft Brewing and Roasting Company are just a short walk away from home for happy hours and nights out.
You may find it hard to leave the fun and convenience of the city for the space and serenity of the suburbs, but living at ASHBRIDGE you won't have to choose between the two lifestyles! Philadelphia and other major cities are just a short walk away via our local AMTRAK train, and our co-working office space will make working from home easier than ever.
Coming to Exton soon, take a tour at ASHBRIDGE and see what having it all can be like. Neighborhood Included!
BACK TO BLOG