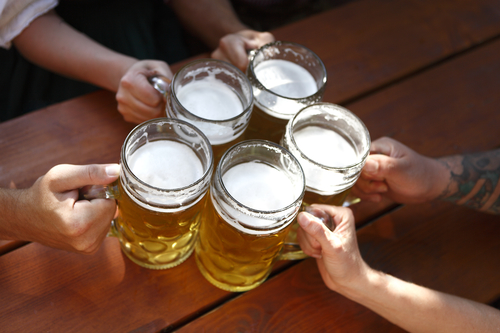 Raise a Glass at This Local Oktoberfest
You don't need to have German ancestry to celebrate Oktoberfest. The traditional celebration spotlights German food, dancing, culture and, of course, beer. While cities like Berlin and Munich pull out all the stops to mark Oktoberfest, you don't have to travel overseas to get a taste of German culture—you can enjoy all of the fun right in your own backyard, without traveling too far from your ASHBRIDGE Exton apartment.
On Oct. 3, head to Brothers on the Brandywine, a seasonal beer garden nestled in the Brandywine Outfitters Riverside Park, 20 minutes from your Ashbridge Exton apartment, for an Oktoberfest celebration to remember. The event will feature a German-style beer tap takeover, live music—with some German flair—and much more.
The beer garden launched this year and already has a huge following. Open every Sunday from spring through fall, Brothers on the Brandywine is in a prime location for outdoor enthusiasts, beer aficionados and those who just love kicking back on the weekends with some good friends, food and brews. The space welcomes food trucks on a rotating basis so there's always some new grub to check out. Beer and cider from the company's Skippack Village brewery is also showcased at the beer garden. With six flagship creations, ranging from pilsners to porters to IPAs, there's plenty of variety for beer drinkers of all tastes.
Every Sunday, the beer garden also welcomes live music, highlighting local, up-and-coming talent. With comfy seating and the invitation to bring along your own lawn chairs, the music and creekside setting offer an incredible ambiance to match the excitement on the food and drink menus. The beer garden will be officially closing for the year on Halloween—so there are only a few more weeks to get out and enjoy the festivities, and there's no better occasion than Oktoberfest!
2096 Strasburg Road
Coatesville, PA 19320
610-222-2739
BACK TO BLOG